Aqualisa Visage Digital Repairs, Sales & Installations
Aqualisa Visage Digital Repairs, Sales & Installations. Welcome to Shower Repairs Dublin's website, just in case you don't know we are Dublin's Premier Aqualisa Visage Shower Repairs, Aqualisa Visage Shower Installation & Aqualisa Visage Shower Sales Specialists. We offer a professional service that is hard to beat. We have been selling, repairing & installing Aqualisa Showers in Dublin for over 30 years & we were once the electric showers contractors for the ESB, back in the day.  Our policy is to provide you with a superb customer service at the best possible price.
Aqualisa Visage Digital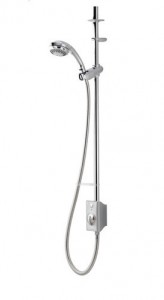 Looking for a shower that is fuss free and simple to install? Well the Visage Digital exposed model is for you! Thanks to its clever design, Visage Digital exposed can take as little as a couple of hours to install, with no damage to your existing tiles and décor. Allowing you to get on and enjoy your new shower. Visage Digital exposed is available in two different variants, so whether you have a gravity, combi or high pressure system you can be sure to get the best performance from this Digital shower.
Features
Simple one touch start/stop control
Light indicator to show when desired temperature has been reached
Can be installed in as little as two hours, without damage to tiles or décor
Optional eco setting on installation
Elegant, simple design
5 year manufacturer's guarantee