Mira Showers. 30 years installing, repairing & selling Mira showers in Dublin.
We have been selling, installing & repairing Mira showers for more than 30 years now. You could call us the Mira Showers Experts, there is nothing that we don't know about them. What we are able to offer is a quality, professional service with expert advice.
So if you are looking to either buy a Mira Shower, or have a Mira Shower Installation carried out , or simply that your existing Mira Shower needs Repaired, you have come to the right website.
Don't just take our word for it, why not see the review below from one of our many happy Mira Shower Customers.
Thank you for coming out to fix my Mira shower, couldn't believe that it is now a 2 year since you fixed my 5 year old shower and it is still working perfectly. I always like to give credit where credit is due and would like to thank you Colm for your good work.
J.Downey. Dublin 6.
---
Here are a few Mira Models that are on Special Offer right now.
---
Mira Elite QT Shower (9.8kW)
Quietly powerful. The quietest shower of its kind, without any loss of power, and ideal for low water pressure systems and designed for Ireland's water supply.
Plus with the clever Mira Cleanflo™ filter, its powerful performance is easy to maintain – perfect for those living in hard warer areas.
With a quieter intefrated pump The Mira Elite QR is the ideal choice for low pressure tank fed water systemes.
Accesible filter
Quietly powerful
Easy to clean filter
Simple settings
Consistent performance
Longer-lasting shower
T90Z
The T90Z brings a cool easy style to any bathroom. Sculpted curves draw the eye into central detail.
Chrome accents around the controls add a fresh modern feel, while a high intensity blue LED power indicator emits a bright clear light for easier indication.
The T90Z is even easy to fit.
Integrated pump for homes where mains water pressure is low, unreliable
or non-existent. For use with gravity fed water systems only
Stylish slimline design with contrasting chrome accents
Push button Start/Stop – allows the last used shower settings to be retained
'Power on' indicator clearly signified by the high intensity blue LED light
3 power settings: "cold " ideal for rinsing, "economy" for energy saving use when the incoming water is warmer and "high" to achieve the maximum water heating capability of the shower
Temperature control with a good grip and clear markings for easy temperature selection
Easy to install – Cable and pipe entry positions at the top, bottom and back on the left hand side of the shower (see diagram below)
Ideal for easy replacement of existing T90 variantsand will directly replace T90xr with no additional wiring or plumbing required
Rub Clean Showerhead – 5 spray patterns for an individual showering experience; from an invigorating central jet through to a soothing wider spray pattern
Stylish curved riser rail kit with soap dish.
Mira Elite Pumped Electric Shower (9.8kW)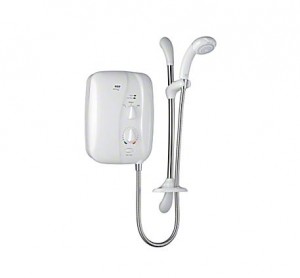 All the convenience of electric showering, from a low pressure stored supply. With its integral pump, Elite ST brings you unbeatable performance. The Mira Elite ST is ideal for areas where mains water pressure is either too low or erratic to operate a standard electric or mixer shower.
Advanced pressure stabilised temperature control keeps your selected showering temperature consistent
Separate power and temperature/flow controls to fine tune your perfect shower
Push button on/off so you can leave the power and temperature controls at your preferred setting
An integrated pump provides a strong and consistent flow, whatever the temperature
Sensi-flo™ prevents scalding in the event of a loss of water pressure or if the showerhead or hose become blocked
Clearscale™ technology cuts limescale by half for a better performing, longer lasting shower
Opti-flo™ optimises flow throughout the year
Phased shutdown flushes hot water from the tank to make it safe for the next user
4 spray showerhead
With rub-clean nozzles for easy limescale removal
Mira Vigour Power Shower Thermostatic
(White and Chrome)

The New Mira Vigour is a perfect blend of performance and price, with precision controls and high quality 5 mode shower head. True invigoration. The perfect blend of performance, price and safety.
Separate flow and temperature control lets you leave the temperature control at your preferred setting
Maximum temperature override for added safety
Fully variable flow control to let you choose from low economical flow through to a high flowing invigourating shower
Multi-mode handset features 5 exciting spray patterns and rub clean nozzles to help keep limescale at bay.
Plumbing system compatibility:
Gravity fed hot and cold water supplies
Mira Elite QT (9.8kW)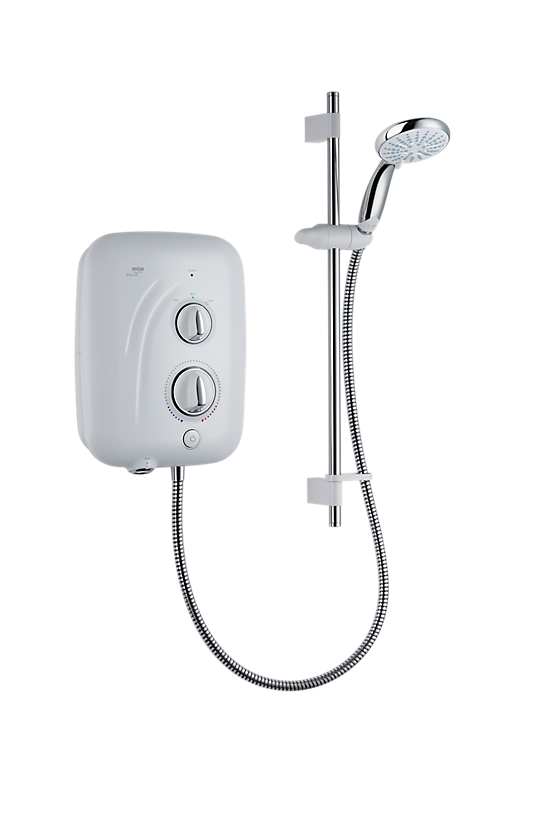 Quietly powerful. The quietest shower of its kind, without any loss of power, and ideal for low water pressure systems and designed for Ireland's water supply.