Mira Elite ST Repairs, Sales & Installations
Mira Elite ST Repairs, Sales & Installations. Welcome to Shower Repairs Dublin's website, just in case you don't know we are Dublin's Premier Mira Elite Shower Repairs, Mira Elite Electric Shower Installation & Mira Elite Shower Sales Specialists. We offer a professional service that is hard to beat. We have been selling, repairing & installing Mira Showers in Dublin for over 30 years & we were once the electric showers contractors for the ESB, back in the day.  Our policy is to provide you with a superb customer service at the best possible price.
Mira Elite Pumped Electric Shower (9.8kW)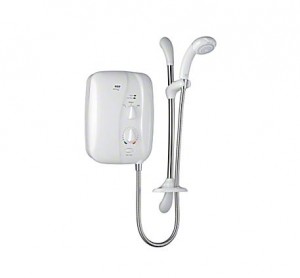 All the convenience of electric showering, from a low pressure stored supply. With its integral pump, Elite ST brings you unbeatable performance. The Mira Elite ST is ideal for areas where mains water pressure is either too low or erratic to operate a standard electric or mixer shower.
Advanced pressure stabilised temperature control keeps your selected showering temperature consistent
Separate power and temperature/flow controls to fine tune your perfect shower
Push button on/off so you can leave the power and temperature controls at your preferred setting
An integrated pump provides a strong and consistent flow, whatever the temperature
Sensi-flo™ prevents scalding in the event of a loss of water pressure or if the showerhead or hose become blocked
Clearscale™ technology cuts limescale by half for a better performing, longer lasting shower
Opti-flo™ optimises flow throughout the year
Phased shutdown flushes hot water from the tank to make it safe for the next user
4 spray showerhead
Rub-clean nozzles for easy limescale removal