Triton AS2000XT Repairs, Sales & Installations
Triton AS2000XT Repairs, Sales & Installations.  Welcome to Shower Repairs Dublin's website, just in case you don't know we are Dublin's Premier Triton AS2000XT Shower Repairs, Triton AS2000XT Shower Installation & Triton AS2000XT Shower Sales Specialists. We offer a professional service that is hard to beat. We have been selling, repairing & installing Triton Showers in Dublin for over 30 years we were shower contractors for the ESB.  Our policy is to provide you with a superb customer service at the best possible price.
Triton AS2000XT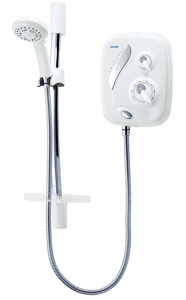 This thermostatically controlled shower is suitable for low pressure systems and delivers a flow rate of up to 14 litres of beautifully warm water per minute. The mixer and pump system is housed in a pristine white fascia and paired with a white/chrome riser rail and handset, to blend with any style of bathroom.
Features
Thermostatic control – constantly regulated temperature gives the user more precise control and safer showering
Automatic shutdown – should either the hot or cold water supplies fail
Adjustable maximum temperature stop – reduces the risk of accidentally turning the temperature too high
Push button Start/Stop – to select your favourite shower setting every time
Rub Clean Showerhead – 5 spray patterns